Domain Home guarantees that if a price on a stock item is lowered within 30 days of your order placement, upon request, you are entitled to receive a refund for the difference between the lower price and the actual price paid. This does not apply to merchandise that is reduced for clearance and discontinued pieces. Custom orders are not included. Coupon promotions do not apply.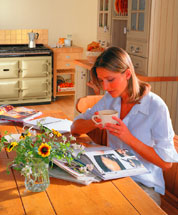 Most people associate the name Aga with good food and fine living. And although it's often thought of as quintessentially British, the Aga actually began life in Sweden. The celebrated cooker found in 750,000 households worldwide was invented by Dr Gustav Dalén, a blind Nobel Prize-winning physicist. Appalled that his wife and their maid had to constantly tend to their old-fashioned range, Dalén set out to design a modern cooker that would look after itself. It's unlikely Dalén could have predicted that his invention would go on to be widely acclaimed as a design icon, but it has. In the year 2000, the BBC published a retrospective of the 20th Century highlighting what it considered to be the top three design icons: first was the Coca-Cola® contour bottle, second was the VW™ Bug and third was the Aga cooker.
Over the last 80 years Aga has built on that iconic design, creating new products for the day's needs. Additions to the Aga family like dual fuel and electric cooking products, as well as refrigeration, have brought us a long way from Dalén's first cooker in 1922, but close to our heritage.
To find out more about the Aga's history, click here
Uncover what's cooking inside an Aga
Beneath the classic looks of every Aga is a heart of cast iron: the entire cooker is an outstandingly efficient energy store, steadily transferring the heat from its core into its ovens and hotplates. An Aga is always ready to cook instantly and there are no switches and dials because the Aga looks after itself. Thermostatic control maintains consistent temperatures while high levels of insulation within the outer casing and beneath the Hotplate covers ensure that every Aga uses fuel economically. The Aga releases aunique source of gentle, friendly warmth into your kitchen.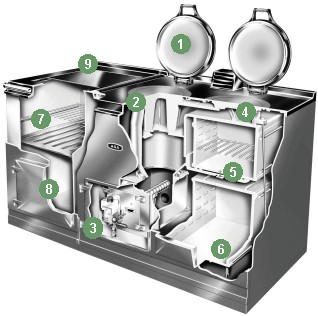 Heat is transferred into the cast iron ovens and released steadily from all the inner surfaces simultaneously. This is an altogether gentler process than the fierce direct heat from the elements or flames in most ovens and is the reason why Aga cooking preserves more of your food`s moisture, flavour, texture and goodness.
If you go for the 2 Oven Aga then one oven will share the duties of baking and roasting. In a 3 or 4 oven model there is a separate oven for each of these activities so that you can do both at the same time. The fourth oven is a Warming Oven designed to keep food piping hot without drying it out, and also to warm plates and serving dishes.
Moving to the top of the cooker every Aga has Boiling and Simmering Plates beneath those two distinctive hinged covers. A 4 oven Aga also comes as standard with a large Warming Plate ideal for keeping courses warm before they go to table, or simply to keep the coffee pot warm during the day.
The choice of heat source is entirely up to you as there are models to run on natural or propane gas, oil or electricity. The important thing to remember is that unlike other cookers every Aga has identical cooking characteristics no matter which type of energy you choose.
The other very obvious benefit of an Aga is of course its resilient nature. It is quite literally a cast iron investment that will, like the best cooks get even better with age.
The Inside Story
Insulated Covers: Those twin insulated covers are the great Aga hallmark. When closed, they`re just gently warm to the touch. Open them and both hot plates are instantly ready to cook.
Boiling Plate: A high heat that can boil water faster than most electric kettles. It`s large enough to hold three average sized saucepans at once.
Heat Source: Once an Aga is up to operating temperature just a trickle of energy is all that`s needed to keep it there. You can choose from natural gas, propane gas, electricity or oil.
Simmering Plate: Again holds three average sized saucepans. It also doubles as a griddle.
Roasting Oven: This oven can take anything up to a 13kg/28lb bird. It is also used for grilling and doubles for baking.
Baking Oven: Featured in every 3 or 4 oven Aga. Like all Aga ovens the cast iron interior holds in its heat tenaciously, so don`t be afraid to open the door and take a peek at progress.
Simmering Oven: Using this versatile oven in conjunction with the hotter oven and hotplates is the key to Aga cooking simplicity - and its wonderful flavours.
Warming Oven: Featured onevery 4 oven Aga. Keeps cooked food warm without drying it out, ideal for entertaining.
Warming Plate: A valuable general purpose surface standard on every 4 oven Aga.